Wanneer je wilt afvallen zul je meer energie moeten verbruiken dan dat je via je voeding binnen krijgt. Dit kan door meer te bewegen of te sporten en het kan door minder te eten. De theorie achter gewichtsverlies is erg simpel, maar de uitvoering blijkt keer op keer lastiger te zijn dan we zouden willen. Want wanneer je wat kilo's kwijt wilt, zonder dat ze na enkele weken weer terug komen, zul je opzoek moeten naar een voedingspatroon dat je voor lange tijd kunt volhouden.
Een voedingspatroon dat je goed kunt volhouden bevat net iets minder energie dan de hoeveelheid energie die je dagelijks verbruikt. Mijn advies is om 20% minder te eten dan dat je dagelijks aan energie verbruikt. Is jouw gemiddelde energieverbruik 2500 calorieën per dag, dan zal ik je voedingsinname afstemmen op ongeveer 2000 calorieën. Wanneer je het op deze manier aanvliegt zul je niet een te groot energie tekort hebben en zul je minder snel honger hebben waardoor de kans op terug vallen in je oude voedingspatroon vele malen kleiner is. Dit is wat je uiteindelijk wilt, want alleen dan zul je kilo's verliezen zonder dat ze er weer aankomen.
Het weekend is lastig voor het verschil tussen inname en verbruik
Het verschil tussen je energie inname en het verbruik is op werkdagen relatief makkelijk in stand te houden. Deze dagen zijn vaak gestructureerd en bevatten bepaalde patronen waar je je voeding goed op kunt afstemmen. Het weekend daarentegen is vaak helemaal niet gestructureerd en is daarom ook veel lastiger om het verschil tussen inname en verbruik in stand te houden.
Bij 9 op de 10 mensen blijkt het weekend de grootste valkuil naar een verantwoord gewichtsverlies. Vaak staan we iets later op waardoor het ontbijt al later en vaak anders is dan normaal. Regelmatig gaan we op visite of krijgen we bezoek waardoor er snel wat lekkers op tafel komt en niet meer in het normale ritme wordt gegeten. Daarnaast staan we onszelf vaak toe om in het weekend wat lekkers te eten, zoals patat, pizza, chinees of andere afhaalmaaltijden.
Uiteindelijk blijkt dat het voedingspatroon door de week ontzettend goed aan te houden is. Maar de winsten die daar worden geboekt, worden in het weekend als snel teniet gedaan. Het gevolg is dat je wel beter gaat eten en meer energie hebt gedurende de dag maar dat je gewicht stabiel blijft terwijl dit juist hetgeen is dat je naar beneden wilt hebben.
Daarom wil ik je drie adviezen meegeven zodat je ook in het weekend een energie tekort kunt aanhouden, zonder dat dit ten koste gaat van het genieten van het weekend of van lekker eten:
1. Laat de touwtjes in het weekend niet vieren:
Iets wat ik vaak zie gebeuren is dat we gedurende de week ontzettend ons best doen om gezond te eten, misschien wel te goed, om in het weekend de focus te verliezen en zonder het door te hebben al het resultaat van die week weg te gooien. Wanneer je in het weekend ook op je voeding blijft letten, zul je veel sneller afvallen.
Dat betekent niet dat je in het weekend niet mag genieten van vrije dagen of van lekker eten, in tegendeel doe dat juist wel. Maar terwijl je dat doet kan je best gezond blijven eten en de eetmomenten die je door de week hanteert ook in het weekend toepassen.
2. Weet wat en vooral hoeveel je eet:
Omdat we in het weekend vaak anders eten, weten we ook niet zo goed of het te veel of te weinig is. Probeer er daarom achter te komen wat je eet en hoeveel energie deze voeding bevat. Zo schrok ik zelf ontzettend toen ik er achter kwam hoeveel calorieën er in een domino's pizza zitten, meer dan 2000 (!). Wanneer je dit gaat beseffen, zal het makkelijker worden om controle te krijgen over je inname en verbruik.
Dat betekent niet dat je alles wat je eet moet gaan 'tracken' in bepaalde apps, maar het is wel goed om eens te kijken hoeveel energie sommige maaltijden bevatten. Zo kom je er achter of het past in je totale energie inname. Mijn advies is om in de weekenden eens je voeding bij te houden zodat je inzicht krijgt in de daadwerkelijke energie inname. Wanneer je dit inzicht hebt kun je makkelijker je voeding aanpassen op de hoeveelheid die je nodig hebt.
En juist wanneer je dat doet, kun je die pizza of dat patatje blijven eten. Niet elke week, maar af en toe kan het geen kwaad omdat je het afstemt op de hoeveelheid calorieën die verbruikt. Zorg er in ieder geval voor dat je in het weekend de winst (energie tekort) van de door de weekse dagen niet teniet doet, houdt het gelijk aan de hoeveelheid energie die je op een dag verbrand en ga er niet over.
3. Maak een plan:
Een andere valkuil is het verliezen van ritme en regelmaat, niet perse omdat je de touwtjes laat vieren maar omdat de dagen in het weekend simpelweg anders lopen dan normaal. Een spontaan uitje of een hele dag in de tuin of in huis aan het klussen kan er al voor zorgen dat je voedingsinname helemaal anders is. Op zichzelf niet zo erg, maar omdat je van de regelmaat afwijkt zul je ook snel afwijken van de voeding die je normaalgesproken eet en dus de hoeveelheid energie die je binnen krijgt.
Het blijkt dat wanneer de regelmaat in je dag totaal anders is, dat je ook ongezonder gaat eten en de maaltijden juist makkelijker en groter worden. Makkelijke maaltijden bevatten van zichzelf al vaak meer calorieën en als je er meer van eet dan stapt het zich wel op. Ook kan onregelmatig eten leiden tot een te groot energie tekort gedurende dag, dat in de avond zorgt voor extra trek en zelfs eetbuien. In dat geval kies je vaak niet voor fruit maar juist voor snacks.
Zorg er voor dat je in het weekend vergelijkbaar eet met de door de weekse dagen. Niet qua voedingsmiddelen, maar wel qua eetmomenten en regelmaat. Denk er dus aan dat je geen ontbijt, lunch of diner overslaat en probeer tussendoor wel de kleine tussendoortjes te nemen.
Door op zaterdag- of zondagochtend op te schrijven wat je wanneer gaat eten zul je makkelijker de maaltijden aanhouden en zul je merken dat je aan het eind van de dag minder honger hebt en daardoor niet meer energie binnen krijgt dan de hoeveelheid die je verbruikt op een dag. Probeer in het weekend minimaal 5 eetmomenten aan te houden. Dit zijn het ontbijt, de lunch, een tussendoortje, een avondmaaltijd en in de avond nog een klein tussendoortje.
De weg naar een verantwoord gewichtsverlies
Wil je écht van de overtollige kilo's af dan zul je minder moeten eten dan dat je aan energie verbruikt. Het is simpeler gezegd dan gedaan. Vaak hebben we allemaal redenen en smoesjes die we onszelf vertellen waardoor we wel meer eten en uiteindelijk niet afvallen. Wanneer je door de week goed je best doet maar nog niet genoeg kilo's kwijt bent, dan is het goed om deze drie adviezen in je weekend te gaan toepassen. Ik zal niet zeggen dat het makkelijk is, maar wanneer je het écht wilt dan kun je het waarmaken.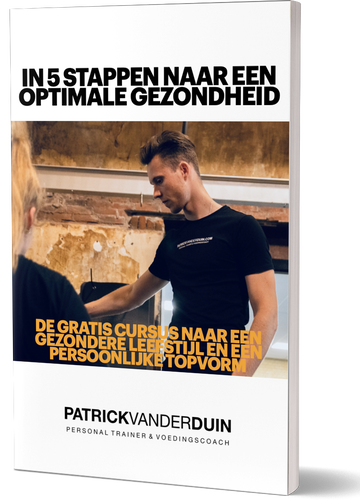 Ben je nog niet begonnen met een nieuw voedingspatroon, maar wil je wel gezonder eten en afvallen? Of wil je gezonder gaan leven en weet je niet waar je moet beginnen? In mijn gratis leefstijlcursus help ik je op weg om daadwerkelijk gezonder te gaan leven zodat je al je gezondheidsdoelen kunt waarmaken. De leefstijlcursus is helemaal gratis te downloaden via deze link.