Lukt het maar niet om die koek te laten liggen? Lukt het niet regelmatig naar buiten gaan om te bewegen? Ga je toch elke dag te laten slapen en kom je niet direct je bed uit wanneer de wekker gaat? Welk aspect van een gezonde leefstijl jij ook lastig vindt, weet dat je niet de enige bent. Beter gezegd, welkom bij de club. Er is simpel weg niemand die een perfecte leefstijl heeft, niemand. Zelfs topsporters slaan wel eens een training over en de grootste ondernemers in de wereld hebben ook wel eens een dag dat het allemaal niet lukt. Wat hen toch onderscheid van de rest is dat ze de draad zo snel mogelijk weer oppakken, waar het gros van mensen juist een excuus verzint om de teugels verder te laten vieren. 
Daarom heb ik voor jou de 5 meest gemaakte excuses op een rijtje gezet met daarbij praktische oplossing om juist wél je gezonde gewoontes vol te houden of weer op te pakken:
1. "Ik had geen tijd"
Geen tijd is wellicht de beste reden om gezonde maaltijden over te slaan, minder te bewegen of de rust te nemen die je zo hard nodig hebt. Geen tijd kan komen door dat het druk was op het werk, omdat je met de kinderen op pad moest of wellicht heb je een verjaardag waardoor je geen tijd over hebt. 
Tijd is ontzettend belangrijk om gezonde maaltijden te maken, voldoende te bewegen of om rustmomenten in te plannen. Wanneer je geen tijd hebt, zeg je eigenlijk dat je iets verkeerd of erger, helemaal niet gepland hebt. Het is altijd mogelijk dat er eens iets tussen doorkomt, soms heeft je werk of je gezin prioriteit, maar over het algemeen kan je met een goede planning een heel eind komen zonder dat je het excuus 'geen tijd' kunt gebruiken.
Hoe kan het dat iedereen 24 uur in de dag heeft en de één wel tijd heeft voor zijn gezondheid en de ander niet? Waarschijnlijk weet de een beter zijn tijd te plannen dan de ander. Maak daarom elke week een planning voor je lichaamsbeweging, voor je ontspanningsmomenten en voor je maaltijden. Dit heoven geen enorme rapportages te worden, maar een simpele to-do-list kan al voldoende zijn.
2. "Ik heb geen energie"
Vermoeidheid, het is wellicht de grootste boosdoener voor het volhouden van een gezonde leefstijl. Want wanneer je vermoeid bent is het echt lastig om goede en verantwoorde keuzes te maken. Het is namelijk makkelijker om op te bank te blijven hangen dan te gaan hardlopen. Maar de vraag is, ben je écht vermoeid of houdt je jezelf een beetje voor de gek?
Ga maar eens bij jezelf na, wanneer je voor het sporten moe bent heb je vaak geen zin. Lukt het je op wilskracht toch om gaan, dan kom je na het sporten veel energieker thuis. Hoe kan het dat je dan niet meer moe bent? De reden is dat je jezelf vóór het sporten een beetje voor de gek hebt gehouden, je was waarschijnlijk lui en mentaal een beetje vermoeid, maar fysiek had je voldoende energie om te sporten.
De beste oplossing hiervoor is om jezelf de volgende vragen te stellen: Wat levert het mij op als ik niet ga? Wat kost het mij als ik niet ga? Wat levert het mij op als ik wél ga? En wat kost het mij als ik wél ga? Op deze manier zet je alle voordelen en nadelen op een rijtje en zul je snel genoeg door hebben dat wél sporten toch meer oplevert dan wanneer je het niet doet.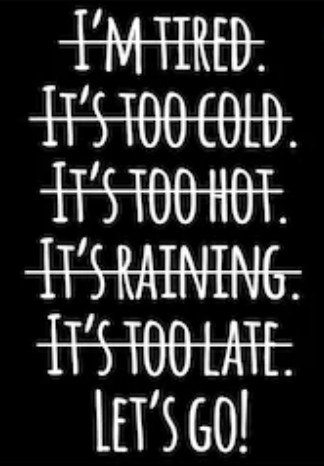 3. "Het lukt mij niet" of "het is wel goed zo"
Velen beginnen heel enthousiast aan een nieuwe gezonde leefstijl, aan een nieuwe sport, een nieuw trainingsschema of een nieuw dieet. Maar na verloop van tijd ebt de motivatie volledig weg en hebben we niet meer voor ogen waar we het eigenlijk voor doen. We vallen dan snel terug in de oude ongezondere gewoontes. Maar van binnen weet je écht nog wel wat je wilde bereiken en waar je het voor doet, maar dit gevoel praten we vaak goed door te zeggen dat het nu ook wel goed is of we zeggen dat het ons niet lukt. 
Zorg er daarom voor dat je altijd zicht heb je doelstellingen en waarom je iets doet. Maak het letterlijk zichtbaar door je doelen op te schrijven en hang dit op een plek waar je het elke dag kunt zien. Zo herinner jij jezelf aan je gestelde doelen en zul je zien dat je de motivatie toch weer terug vindt om gezond te gaan leven. Waarom zou je er anders de eerste keer aan begonnen zijn?
4. "Het is te slecht weer"
Een goede regenbui is wellicht de beste reden om niet naar buiten te gaan en te sporten. Toch mag dit niet een reden zijn om helemaal niks te doen. Als je jezelf laat tegenhouden door het slechte weer, dan gebruik je het eigenlijk als smoes om helemaal niet te hoeven sporten. Natuurlijk zijn er uitzonderingen, maar gros gebruikt het als smoes.
Want ook als het regen kun je altijd nog oefeningen in huis doen, met slechts 2 vierkante meter kun je al een half uur flink sporten. Welke oefeningen je dan moet doen? Zoek op Youtube een 'thuisworkout' die jou leuk lijkt en volg deze training. Op deze manier activeer je toch je lichaam en dat is altijd beter dan stil zitten. Wat je ook kunt doen, als het bijvoorbeeld regent, is lekker even wandelen met een paraplu boven je hoofd. Of trotseer de bui met een korte intensieve hardloopsessie. Je wordt wel nat, maar je blijft ook goed warm. Als je thuis weer onder een warme douch staat kun je extra trots op jezelf zijn.
5. "Je moet ook nog een beetje kunnen leven"
Dit excuus hoor ik heel vaak als ik het heb over gezonde voeding. De associatie tussen gezonde voeding en een saai leven wordt door heel veel mensen gemaakt. Maar het tegendeel is waar, gezonde voeding is juist rijk aan variatie en zorgt er voor dat je gezondheid en genieten kunt combineren. Gezonde voeding is altijd een balans, want elke dag salade eten is ook niet gezond. 
De beste manier om te genieten van voeding is door balans te houden in je dagelijkse calorie inname. Als je 2000 kcal op een dag nodig hebt, mag je best een lekkere koek eten bij de koffie. Maar je moet voorkomen dat je dit bij elke kop koffie neemt, want dan schiet je energie inname omhoog. Daarnaast kun je altijd gezonde maaltijden maken door verse ingrediënten te gebruiken. Ik zeg altijd, wanneer je vers en naturel kookt, kan er bijna niks ongezond zijn. Het enige waar je dan nog op moet letten is de hoeveelheid die je eet.
Een persoonlijke advies
Herken je één van deze smoesjes en vind je het lastig om zelfstandig de discipline op te brengen om wel gezond te leven? Als personal trainer en coach help ik je graag om een leefstijl te creëren die je wel kunt volhouden en waarmee jij elke dag energiek en productief aan de slag kunt om het beste uit jezelf te halen.
Zullen we eens vrijblijvend kennismaken?